San Francisco to New York
April - June 2005


Week 5

23 May - Monday - 88.7 miles/1580 total
Imperial to Cambridge NE
On arriving in Imperial and deciding to stay, my over-ambitious plan to ride 130 miles from the state park campground to Alma was abandoned, as I would now have had to do 140 miles, and the headwind wasn't going away. So I thought next of going just to McCook, at about 60 miles from Imperial. But the woman running the B&B said she knew of a nice B&B in Cambridge, 90 miles away, and offered to call ahead. So my goal was now Cambridge.
I got a late start, 9:15 or so, as the B&B people in Cambridge weren't going to be around until after six and I didn't want to get there too early. Of course I had forgotten about the time zone change.
The day started warm and got hotter and hotter. I stopped for an air-conditioned lunch in Palisade, an almost-hamlet that had evidently once been larger, as had many of the towns I was passing through. Lunch took a while, and by the time I was riding again it was around two, thanks to the time change. And it was very hot.
At McCook, the temperature was 94, according to the sign in front of a bank. And it was five and feeling much cooler than it had been earlier. So the temperature must have been near 100 while I was riding. Considering that I'm not used to weather much hotter than San Francisco's, I was tolerating the heat fairly well.
At Indianola, I started to notice the sky getting prematurely dark behind me and to the north. There were big, possibly threatening clouds. But I didn't know if this was something to worry about, as the southeast wind should have been pushing them away, unless the wind higher up was going in a different direction.
But the sky got darker and darker, and I decided I'd better push hard for Cambridge, 14 miles ahead. The wind had died down a bit, so I was able to make better time - but I was pretty tired by now. All the same I probably averaged 14 or 15 mph from Indianola to Cambridge, arriving just as the B&B proprietors, Gerald and Gloria, did.
The B&B itself is an historic, big old classical revival pile, built in 1908 by the founder of the local general store and the local bank. It has the usual collection of formal rooms on the first floor, about five bedrooms on the second, and a ballroom on the third. The ballroom is now the living quarters for the owners. Everything is very well appointed and very nice. And when it turned out that the town restaurant had closed before I could get there, Gloria heated up some very tasty leftovers, braised tri-tip with rice pilaf, and put together a very nice salad. And there were seconds, so I certainly didn't go hungry.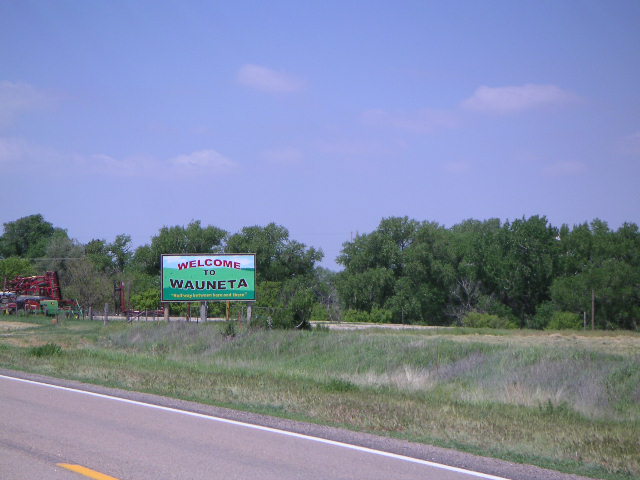 "Welcome to Wauneta - Halfway from Here to There"
24 May - Tuesday - 0 miles/1580 total
Cambridge NE
I had asked for breakfast at 7:30, but even when I did that I was considering staying in Cambridge for a day. When I got up, I was dead tired. So I went down to breakfast and let my hosts know I was staying. And then I attacked the huge breakfast that involved a place setting with two forks, knife and spoon, a preliminary mixed fruit course, then a lot of scrambled eggs and several pancakes artfully rolled like crepes. I felt guilty eating such a huge breakfast when I had no intention of riding anywhere.
I then napped for a while. Once awake, I updated this journal, then went to the local deli and had a roast beef sandwich. On the way home I noticed an ice cream parlor and latte palace, not mentioned by my hosts, so I stopped by for a little something. Then to the library to check my e-mail, home to upload the week's photos, and back to the library to work on the blog to display the photos.
On the way home I looked into the local museum, full of a collection of artifacts of everyday life from the nineteenth century through the mid-twentieth, as well as some Indian artifacts and mastodon bones. Apparently Nebraska is full of dead mastodons.
I went to the town restaurant for dinner and had a steak, then walking home saw how threatening the skies were, with occasional lightning. It had been a very hot day again. When I turned on the Weather Channel, there were regular warnings of a line of severe thunderstorms, potentially with 70 mile per hour winds, approaching Cambridge at 35 miles per hour. But it never got as spectacular as promised.
25 May - Wednesday - 102.1 miles/1682 total
Cambridge to Red Cloud NE
Now I had a choice between going to Alma, only 60 miles away, and Red Cloud, about 100. There was not much in between. It turned out, though, that there was construction on the road east of Alma - my hosts had called a relative in Alma to confirm this - and the road was closed. So I would have to stay north of Alma, following a route that had no towns (or at any rate had no supplies) for sixty miles, ending in Red Cloud. It would be like Nevada again.
The weather had changed radically. It was in the 50s, with a predicted high of no more than 60. There was a heavy north wind (a cross wind for me), with gusts. East of Cambridge, there was an occasional sprinkle, but nothing major. At 14 miles, in Arapaho, I bought a sandwich for later, as that would be my last opportunity.
The road to Alma - the one I would have preferred to be on, the road to civilization - turned south, but I went straight east. The weather worsened. The terrain was rolling, and the road was constructed with cuts through the crests of the hills and fills through the troughs. Every time I came out of a cut onto a fill, I was up in the air and exposed to the now intense cross wind. A couple of times I was almost blown off my bike. I had to force myself to slow on descents so I could keep control of the handlebars.
There had been occasional sputtering rain for a while, but as the winds got to a particularly intense point, suddenly it started pouring with huge drops moving almost horizontally. It felt like hail. Very luckily I was next to a structure covering an irrigation pump when this happened, so I moved under it and started putting on more clothing. The intensity didn't last, though; the rain stopped, the sun shone very briefly, and the winds suddenly died down to a bearable speed.
In just a few more miles, I was riding south to connect with the main road east of Alma. I had a tailwind for thirteen miles - I hardly pedaled. But then, arriving in Franklin, I had to turn east toward Red Cloud, with the cross wind and the rollers back. But 25 miles later I was in Red Cloud.
Red Cloud advertises itself as the home of Willa Cather, and I wound up staying at a bed and breakfast in a house that once belonged to Cather's parents - she would come and visit them regularly there and apparently write on the porch outside her room. I was offered that room, in fact, but I took the one with the television in it because I need my Weather Channel fix.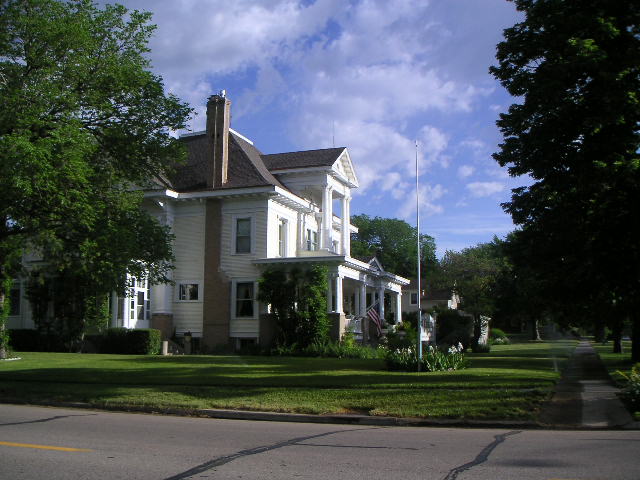 The Cambridge (NE) Bed & Breakfast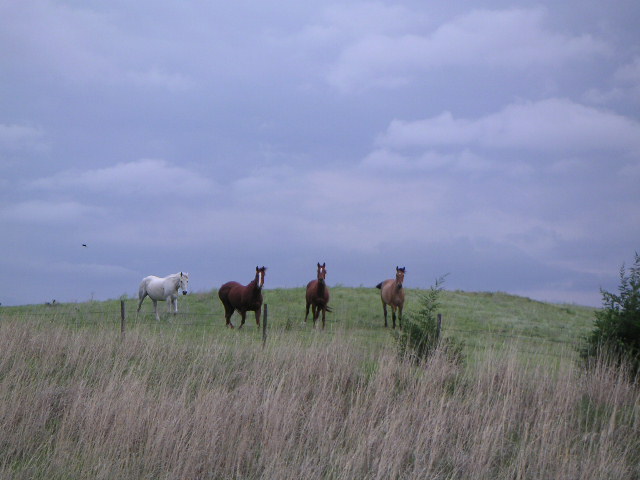 Horses are always interested when I pass. East of Arapahoe, NE
26 May - Thursday - 87.8 miles/1770 total
Red Cloud to Rock Creek Station SRA (east of Fairbury)
Another 7:30 breakfast, again elaborate, but I was on the road by 8:05. I got away so fast that I forgot to fill my water bottles, but the day was so temperate that I figured I probably had enough water for a while. And finally there was a tailwind - the wind was northwesterly.
Today I just chugged on and on, always on US 136, always going east except for a four mile dogleg north in the middle of the day, and a short push south at the end of it. The terrain rolled as it did the day before, but with the tailwind this was no problem. I stopped for lunch in a tiny café in a town of 27 people - Gilead - a place where I wasn't expecting to be able to buy anything to eat, but the only place, it turned out, that was directly on the road between Red Cloud and Fairbury.
When I got to Fairbury I followed the sign off the main road to the business district - a tired and decaying early twentieth century town that was nonetheless by far the largest town I'd seen since Colorado. But I soon figured out that the real action was back on the main road, a little farther east of where I had turned off. There of course was the Walmart, as well as a supermarket and a Subway where I bought a big sub for dinner.
Then I went east and south over secondary roads to Rock Creek Station State Park. This is a state historical park - the pony express came through here - as well as a campground. So here I set up my tent for the first time since California.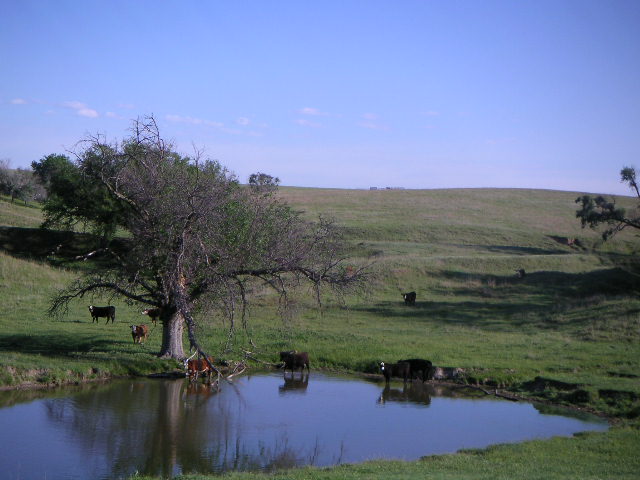 Contented cows, east of Red Cloud
27 May - Friday - 104.0 miles/1874 total
Rock Creek Station SRA to Percival IA (Nebraska City)
The campground was mostly full; there were RVs on most of the RV pads, as well as a couple of tents in the tent area, apparently belonging to a pair of University of Iowa guys gone fishing in an official University truck. I had heard these two come back late in the evening - after I'd gone to bed - taking forever to unload their truck. But when I got up no one was stirring. So I folded my tent, and before stealing away, had a quick breakfast of bread (from the Subway I'd got dinner at the night before) and jam.
The wind was with me, and the terrain was flat. At Beatrice (accent on the second syllable) I had a second and unhealthy breakfast at a Dairy Queen, then pedaled on to Tecumseh, where I found a Pizza Hut for lunch. I'd been concerned about whether the bridges across the Missouri were going to be open to bicycles, so at the Pizza hut I asked a couple of sheriff's deputies who were taking advantage of the all-you-can-eat buffet, and they told me that my preferred bridge, the one at Nebraska City, was definitely going to be better than the alternative at Brownville, which was single lane and shoulderless.
So from Auburn I headed north on US 75. Now the east-west road I'd been on, US 136, had lost its shoulder some time back, and this had gradually become unpleasant as traffic increased, but the far busier US 75 to Nebraska City was much worse. It was narrow, shoulderless, heavily traveled, and full of semis, two of which blew me off the road with their slipstreams. And there was now a serious headwind. As it happened, though, the road was being widened to add another two-lane roadway, and the concrete slab was poured and ready to ride on, so I eventually moved over to the empty new surface and rode on.
At Nebraska City it remained only to turn right and cross the Missouri. The bridge is a new, freeway-style span, with a shoulder and a low and slightly scary barrier, but it was downhill all the way to Iowa. Unfortunately neither the bridge nor the river at that point were particularly photogenic, so I didn't bother to stop for a picture, other than the one of the "Welcome to Iowa" sign. And when I got to Iowa, the road was again shoulderless, with traffic so heavy that I had to ride a couple of miles on gravel shoulder to the freeway intersection where I found a motel.
Then as I checked in at the motel, I discovered that the credit card I'd been using was missing. After searching through my wallet, I wound up using my remaining card - my debit card. When I called my answering machine at home, I discovered that the card was at the bed and breakfast I'd stayed at in Red Cloud. So I made arrangements to have a replacement forwarded to my sister in Chicago.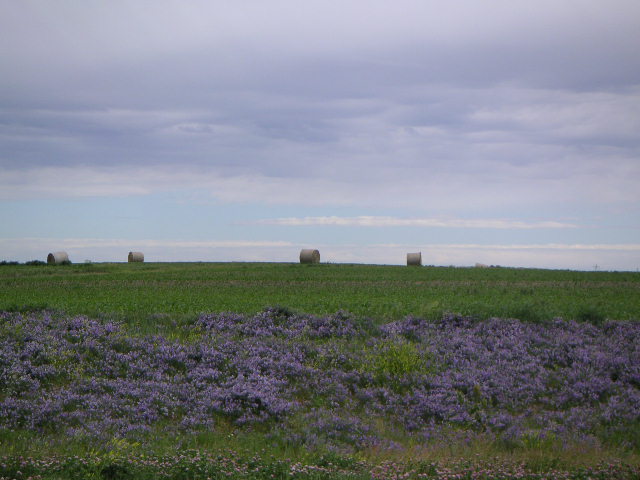 Wildflowers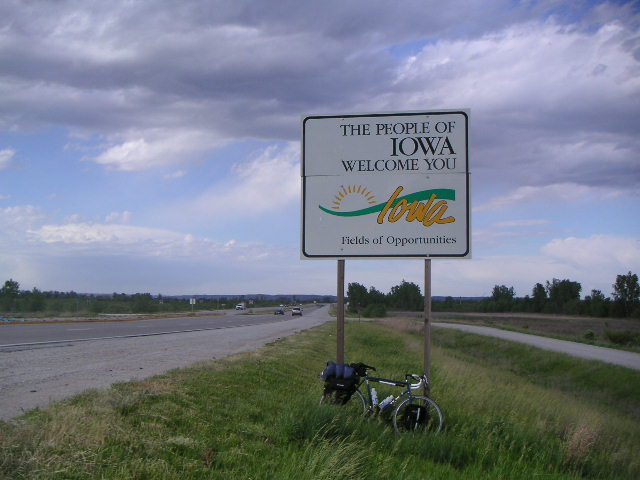 Iowa
28 May - Saturday - 93.5 miles/1967 total
Percival IA to Mount Ayr
I had thought about staying at an Iowa state park a little beyond the motel where I actually did stay, but I was tired and I thought that getting to the park would involve a considerable detour. In fact, just a few miles into the morning's ride, I passed within a mile of the park entrance, as I reached the top of the first big hill in Iowa.
And those hills continued. That first climb had been to the top of a major ridge, probably the longest climb in the state, but the rest of the day rolled up and down without end.
I stopped at Clarinda, the birthplace of Glenn Miller, for lunch at a burger place. Clarinda is pleasant and treed, and like every other county seat I've ridden through in Iowa (and there seem to be an unusual number of counties in this state), there's a courthouse of the usual blockhouse architecture set in a central square, with shops all around the square. Clarinda's shops, though, mostly seemed to be prospering, while in many other places in Iowa the shops were boarded up and empty.
About ten miles before Mount Ayr, my expected stopping place for the day, a road cyclist came up behind me - the first since eastern Colorado. He was a freshman at Iowa State, training to do the RAGBRAI, the annual ride across Iowa. He hadn't planned on going all the way to Mount Ayr, but he said he'd keep me company and take the opportunity to visit his brother there. And he reassured me that there was a motel in Mount Ayr.
There was a motel in Mount Ayr, but it was booked solid. And when the owner called ahead to the next town, the two motels there were booked also. There were several high school reunions going on at once, so I was out of luck. I went into town, rode around the courthouse square, and found a woman on a bicycle who directed me to the town's bed and breakfast. They were booked too, of course, but a woman on the porch, a guest, when I asked her about a town park I might be able to camp in, called a friend in town who suggested I camp beside the newly restored former railroad depot. As the friend was one of the forces behind the restoration, and as the depot was privately owned and had a nice lawn, that worked well enough. But there would be no shower. And I'd have to content myself with the bathroom in the restaurant I had dinner in.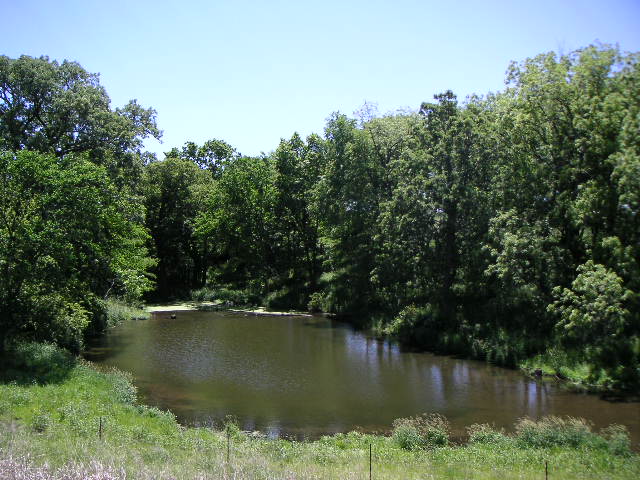 Sylvan pond, western Iowa
29 May - Sunday - 74.3 miles/2042 total
Mount Ayr to Centerville IA
The rain started about 5:30 in the morning, just after I woke up. I got up and pulled the panniers off my bike and brought them into the tent, not noticing that the bike was under the overhang of the depot roof and was not getting wet. But I couldn't sleep anymore and was still clammy from the lack of a shower the night before, so I was soon up again, getting dressed, and packing up my very wet tent. Just as I finished getting everything back on my bike and was ready to go, the couple who had suggested I stay there pulled up in their car to open up the depot so I could use the bathroom there. As it happened, I had already run quickly into the bushes behind the depot, but I couldn't easily tell them that, so I thanked them, and was riding off in the rain a few minutes later.
The one place to eat in town wasn't open until eleven, but there was a convenience store on the highway (Casey's: there seems to be one in every Mudville in these parts) where I found some carbohydrates and some simulated orange juice that gave me enough energy to last for the 26 miles to Leon, where at last it stopped raining.
In Leon, it looked like there was only one place for lunch, the Dairy Queen. It was fascinating to see how plump everyone there was. A family came in, parents and a son of ten years or so, and they all looked like Fatty Arbuckle. Then other groups came in for lunch, and they all looked about the same.
On then to Centerville, another county seat with a courthouse square and a collection of dusty shops surrounding it, where I found a motel. Dinner there was the usual steak, baked potato, and salad of pale iceberg lettuce in what appeared to be the only restaurant in town that was open.