San Francisco to New York
April - June 2005


Week 8
13 June - Monday - 88.5 miles/3154 total
State College to Berwick

East from State College is Penns Valley, a postcard vision of tidily prosperous Amish farms as the relatively flat road follows the valley floor for several miles. Here I missed a too-good-to-be-true photo op. I came up to the red octagonal barn in the photo below just as a one-horse buggy was being driven up the drive. And wasn't the usual plain dull black Amish buggy - this one was trim and polished, and looked like something from a Currier and Ives print. Naturally I couldn't get my camera out fast enough to get a picture, but perhaps it's for the best - that picture would have been just a little over the top.

At the upper end of Penns Valley there is of course a climb, but after that it was all downhill to Mifflinburg, then flat to the west branch of the Susquehanna at Lewisburg, where I had a hoagie. Then through the pleasant old city and across the river. Flat still, along the northern bank of the east branch of the Susquehanna to Berwick, where I found a motel.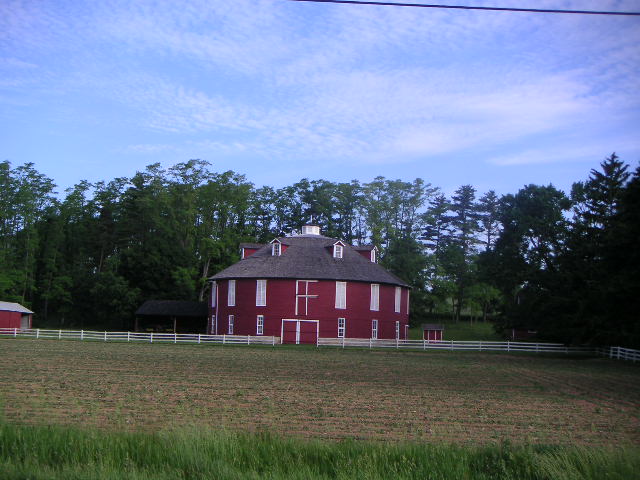 Barn, Penns Valley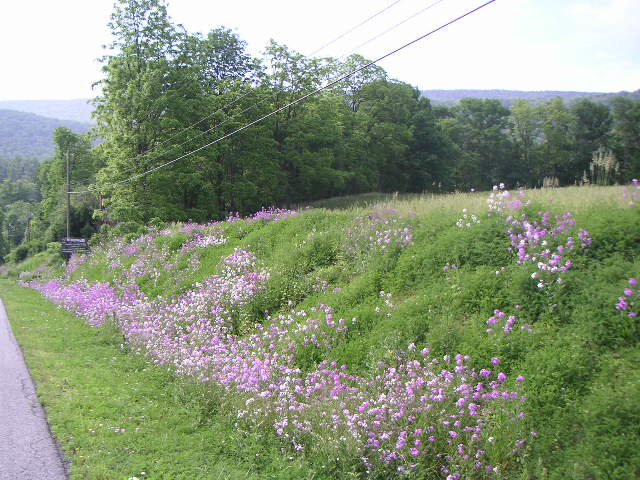 Wildflowers, Penns Valley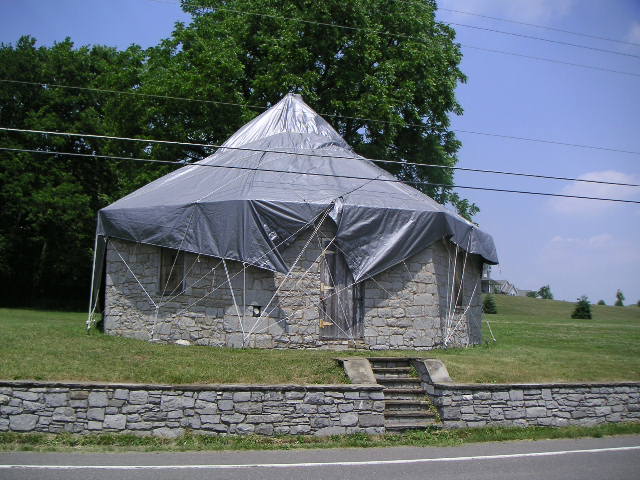 The Sodom School (no kidding), near Montandon PA. Christo got there before me
14 June - Tuesday - 96.2 miles/3251 total
Berwick to Riverton

From Berwick, it's the Poconos, very familiar territory. Oddly flat, too, considering this is the Pocono Mountains. And for once, the shoulders were deserting me, at least for a while.

At East Stroudsburg and the Delaware Water Gap, I knew I wasn't going to be able to cross the Delaware on the I-80 bridge, but I thought I'd be able to take the bridge at Portland, five miles south. But this bridge on a minor road, for no apparent reason, was toll, and pedestrians and bicycles not allowed. So I continued south on River Road - very, very scenic, and completely empty, in compensation - until I came to Riverton, which had a decrepit old bridge with a footpath, and a bed and breakfast.

The B & B was a little strange. I rang the bell several times, but no one answered, even though I had the impression that someone was inside. So I called the phone number listed on the sign and reached the proprietress, who said she was wary of people who showed up without reservations and had therefore not answered the door. It turned out that she had one other guest, a guy who was doing some sort of technical work locally and who was staying long term. So she had a lot of self-consciously twee Victorian rooms, empty. I booked in for the night, as the alternative was a sinister looking roadhouse across the street, or going on across the river to New Jersey to explore.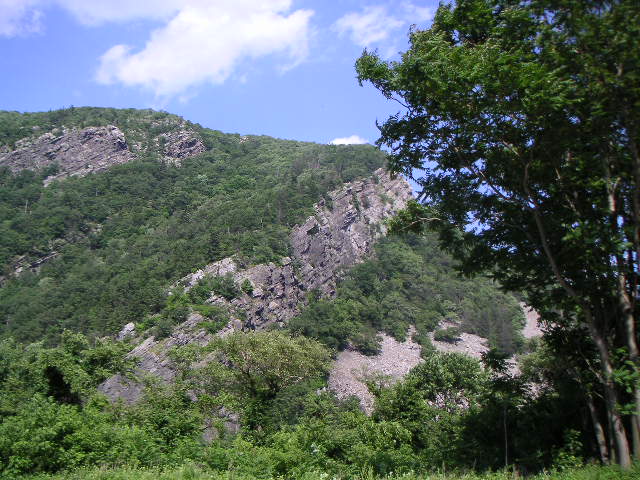 Delaware Water Gap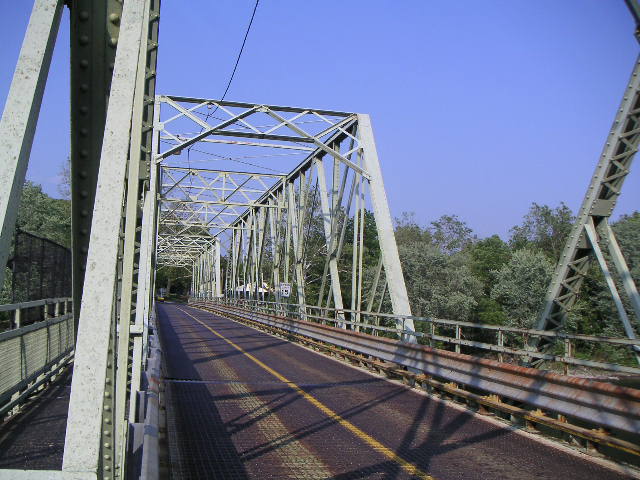 Decaying bridge across Delaware River at Belvidere NJ
No Welcome to New Jersey sign, but at least Warren County is hospitable
15 June - Wednesday - 78.0 miles/3329 total
Riverton to NYC

Ah, New Jersey at last! Wait, New Jersey isn't really my goal. But it's easily crossable in part of a day, which I did.

I was really on familiar ground now, sort of. But sorting out the New Jersey approach to the George Washington Bridge has always been a problem for me, even when I lived within a few miles of it. Somehow I got sucked into the whole mess through Patterson and Hackensack, and had a hard time figuring out how to cross the Passaic and Hackensack rivers. If only I'd approached from farther north, I would have been in territory I had ridden through before, but as it happened, I never really felt I knew where I was until I could actually see the towers of the bridge.

But once on the bridge, I felt I'd reached the end at last. I hadn't been on it on a bicycle (or maybe at all) in fifteen years, but it was completely familiar, as was the route south through upper Manhattan, snaking around the Columbia Presbyterian Hospital and down to Riverside Drive, then south to where I used to live at 95th and Riverside. I stopped for a picture - the neighborhood certainly looks more cared for than it used to, although things were certainly picking up in the last couple years I lived there.

I had reservations for the night at a place on 14th Street in Chelsea, but first I needed to dispose of the bike. I had bought it fifteen years ago at Bicycle Renaissance on Amsterdam; the shop had moved to Columbus, across from the Natural History Museum, but was still in business. I had called them before I left San Francisco to check to see if they would ship my bike for me, so that's where I went from Riverside.

The guy who met me made a show of looking at my odometer to see if I'd really done the distance, and in doing so, managed to reset it. But I had already noted the number, so no big deal. He took the bike and my $100 (really a bargain), and promised to ship it off the next day.

After that, anticlimax. I spent the night in Chelsea, and next day took the subway to JFK and caught my flight back to California.

So the statistics are 3329 miles, 52 days, and 15 pounds lost. A few more days than the trip in 1990, but I lost almost exactly the same weight. The weight loss is distributed differently, though; this time I don't have the feeling that I've lost all my upper body mass. And I suspect most of the 15 pounds will be back in a couple of months.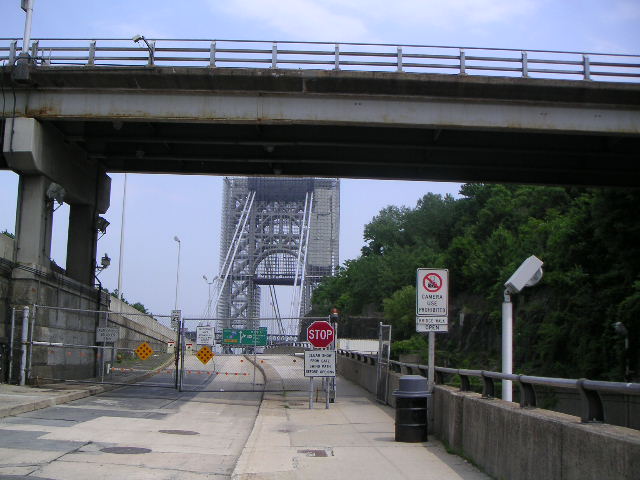 George Washington Bridge approach. Notice childish attempt to abridge civil liberties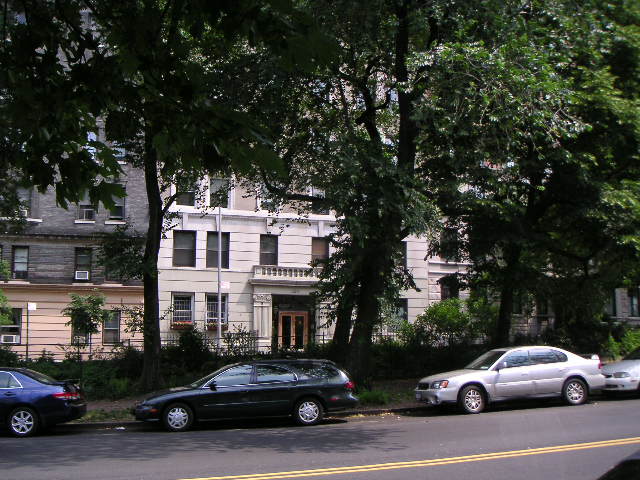 My old building in New York, from which I started out on my ride to San Diego fifteen years ago